The pollen season is a great time mostly to plants and nectar-sucking insects. It is a time where pollen grains are abundant in the environment. It is also a season of vulnerability to human health; as a catalyst for some respiratory issues like asthma or other respiratory-related allergies,
Pollen grains are very important in pollination and are weightless and minute, such that they are dispersed mostly by wind, insects, and birds. This dispersion leads to the haphazard settling of the pollen grains in many unwanted places like your gutters, sidings, cars, windows, etc. causing unpleasant effects. Therefore, it becomes crucial to clean your sidings.
Why you should power-wash your siding after the pollen season;
It saves you from unnecessary health issues
The pollen season comes with its allergies like; itchy throats, runny nose, itchy eyes, etc. Protect yourself and family from these allergies by ridding the siding of the pollen grains that accumulate there.
It improves your home value
The accretion of pollen grains on your siding leads to an unsightly image or stain on your siding, and when it combines with other organisms, it could lead to the destruction of your siding. This would lead to a reduction in the evaluation of your home.
Also, pollen serves as a great contributor to the growth of weed and other plants which attracts pests (rodents, birds, and insects) that damage your siding.
Finally, repairing damages to siding caused by pollen grain accumulation would cost you money.
It improves your home aesthetics
Pollen grains that are gathered together in a particular place for a long period would make for a repulsive sight. In most cases, late removal of such long-gathered pollen grains leaves a color stain on such surface.
Also, pollen grain gathered on the siding that is not immediately washed away could migrate from the siding to inner parts of your home, and leave indelible marks on surfaces inside your home.
How Power Washing Works
Power washing is a modern stain-removal method that involves the use of water – which could be mixed with power washing detergents – flowing at high speed through a nozzle against a stained or grimy surface, like your porch, gutter or siding.
To effectively power wash your sidings, take note of the following tips;
Use proper pressure levels
Excessive pressure to your siding could weaken the siding material and destroy your siding. For example, low pressures should be used for materials like brick or stucco plaster, and mild pressures should be used for materials like Aluminum, wood, or vinyl.
Add a little bleach if necessary
Adding a little bleach to your washing mixture would help if your siding has been a host to a large colony of mold, mildew, or pollen grains. But remember, too much bleaching can change the color of your siding.
Protect your home interior
Close your windows and doors while power washing to prevent the dispersion of the pollen grains from your sidings to the inside of your homes.
Aim the nozzles properly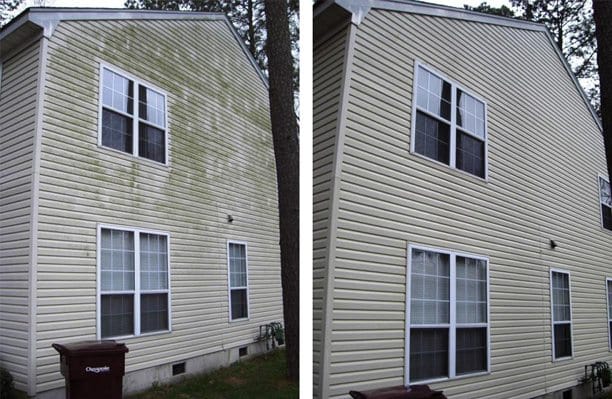 Aim the nozzles of the hose at an angle of 45 degrees to the siding while power washing. This reduces the force of the running water on the siding and aids effective cleaning.